Roller Shutters Townsville
Protect your family & property with a Roller Shutter from Ede, the townsville outdoor blind experts
With the increase for security, safety, and extreme weather conditions across North Queensland, many homeowners and businesses are looking for a better solution to protect their loved ones.  Roller Shutters are the perfect answer. Tested by James Cook University here in Townsville they are Cyclone rated up to C4 T5.
Our Roller Shutters are made right here in Australia from high quality, strong aluminium alloy construction, roll tight design with a range of powder coated finishes.  Suitable to windows and doors.
Roller shutters protect you from the weather and much more!
Designed with safety and security in mind, our roller shutters are the ideal means of protecting your property and your privacy. They prevent intruders from entering your home or business premises and protect your windows from getting damaged by storms and cyclones.  Ede Shade Solutions roller shutters can help keep your property cool during the summer months saving you money on your energy bills. In addition, they also help to reduce noise, so you can relax in a quiet environment, even when the world outside is at its busiest.
Our roller shutters are motorised with remote control and compatible with SolarSmart™ and PowerSmart™ Automation. Contact us to see our full range of roller shutters Townsville wide.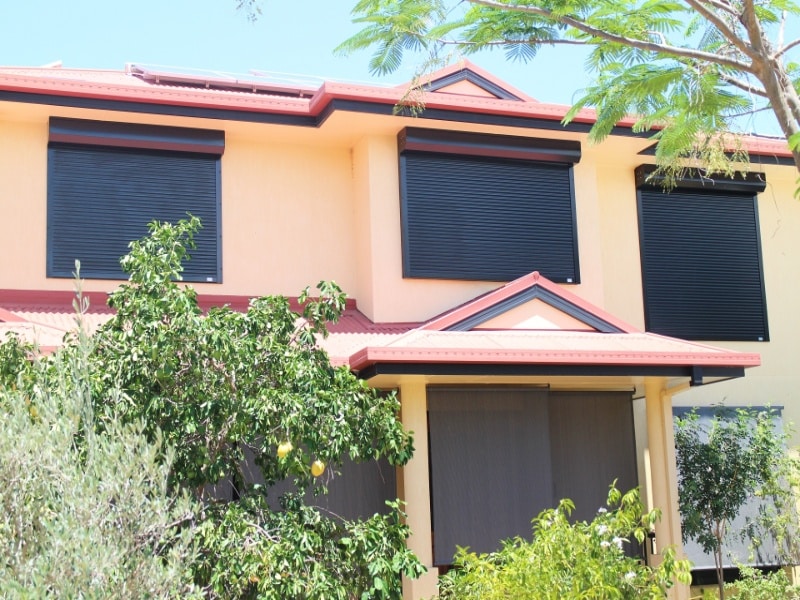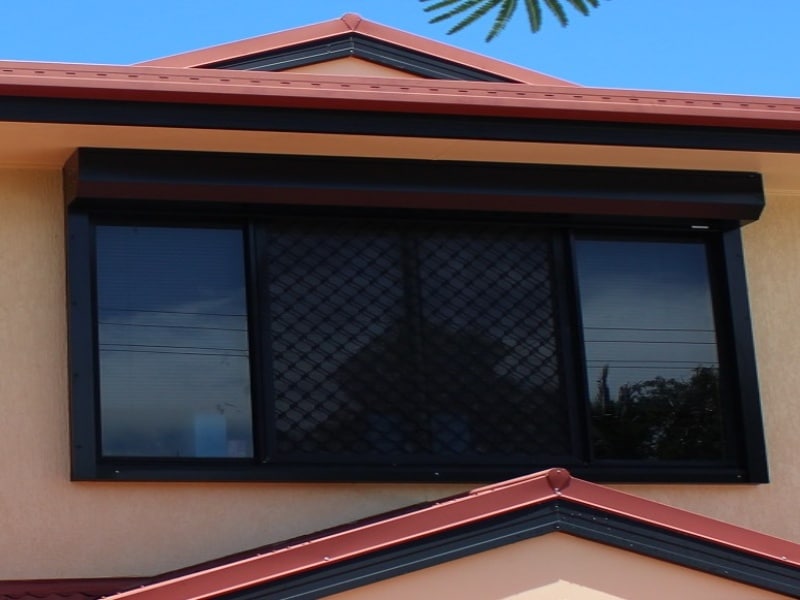 An attractive, unobtrusive solution
Roller shutters have long been a favourite option for Townsville businesses, as they offer such a high degree of safety and security. However, they are also becoming an increasingly popular choice for local homeowners because they are made to look so attractive!
Available in a wide range of colours, our roller shutters are made to sit flush to the wall so they don't look bulky when they're down. When not in use, they simply roll up into a compact box attached to the wall, so the shutters are completely unobtrusive when you want them open.
Whether your property is traditional or modern, roller shutters can enhance the appearance of the exterior, providing you with safety and comfort while still maintaining the beauty of your home or office.
We want your experience with Ede Shade Sails to be amazing, and we back that up with our simple Comfort Warranty.
We offer a 5-year warranty on components and 10-year warranty on materials (warranty conditions apply) on most of our blinds and awnings. We take pride in offering the best possible Townsville blinds and awnings to our customers and look forward to serving you and your family for the next 100 years!
Motorised roller shutters for your convenience
The design of our roller shutters is based on convenience and ease of use. We understand that you're busy and you need a low-maintenance solution. This is why our shutters are so easy and smooth to operate.
No need to worry about the hassle of opening and closing your shutters by hand, we've got you covered! Our outdoor roller shutters are fully motorised, so you can operate them with the touch of a button. And, for a truly futuristic solution, they're completely compatible with smart home technology via a hub. This means you can operate your shutters directly from your smartphone or tablet.
There's no more need to worry about forgetting to close your shutters – you can do this from anywhere, even when you're not at home or after you've left your business premises. And, if the weather suddenly changes and you realise you want to activate your shutters, you can do this without even standing up, instantly making your property a more comfortable environment.
This option gives you complete peace of mind and protection as well as the ultimate convenience.  When it comes to future-proofing your home or business, our shutters are made from the highest quality materials. They're strong, durable and designed to last long into the future, so they offer excellent value for money. We even guarantee them for five years, so you can purchase with complete confidence.
I had a really great experience with Edes Townsville. Being a local company and local family-run business, they were able to provide a lot of personal suggestions on what type of blinds would suit my place that's in the direct North QLD sun. Communication, speed and professionalism was outstanding. Absolutely recommend if you're looking for some blinds, shade sails etc as you'll get good quality products and service.
– Tania Clarke
Find out more about our outdoor roller shutters
As a proud local family business, we are always happy to help Townsville residents and business owners to protect their properties. If you are based in Townsville and you would like to find out more about our roller shutters, please contact us.  Our team will be happy to discuss your needs and arrange a consultation. Find Out More.
Need blinds, shutters, awnings or shade sails? Let's get started...
Frequently asked questions about our Roller Shutters Townsville
What you need to know about Ede's products and services.
Are roller shutters a good idea?
Roller shutters provide a great option for maintaining privacy in your home, particularly if you have windows that are visible to pedestrians or traffic outside. With the full blackout capabilities of roller shutters, you can create a space that is yours and yours alone. Not only do rollers shutters provide the opportunity for ultimate privacy, but they also add a significant security element to any home's exterior.
How long do roller shutters last?
Roller shutters are gaining increasing popularity within both the commercial and home security industries. They offer long-term protection for both entrances and windows, usually lasting for at least three decades of reliable service. Not only do roller shutters provide strong deterrents against intruders and vandalism, but their robust construction also helps to protect against extreme weather conditions, hence making them an ideal choice as a protective installation. Their durability also makes them great value investment – making them well worth considering as part of your home or business security solution.
Do roller shutters keep heat out?
Roller shutters are an effective and cost-efficient way to boost energy efficiency in the home. Installed on the outer part of a window, these shutters happen to form an insulated layer that works wonderfully well at preventing the cool air from escaping outside. Think of them as invisible insulation layers that will reduce your monthly energy bills through improved cool air retention. It is all thanks to their state-of-the-art design – when fully closed, they completely cover up the glass, creating a strong barrier against temperature exchange.
What should I look for when buying roller shutters?
Investing in roller shutters is an important decision, and there are three primary considerations that every homeowner should take into account before any purchase:
 Security is the most obvious of these, as no one wants to sacrifice their home's safety. 

Quality should be a major factor too – poor construction materials are usually inadequate for the purpose. 

Lastly, cost and budget cannot be overlooked when it comes to choosing between different types of shutters. 
With all this in mind, taking time to do research and ask questions can help you make the correct choice in terms of what provides the best possible protection while sticking within your set budget. So contact us today for a free consultation and quote!