Durable & Beautiful – Quality Outdoor Plantation Shutters
We all love to spend time outdoors, and it's even better when we can relax in the comfort and privacy of our own home. If you want to enjoy these benefits to the maximum, Ede Shade Solutions is here to help with our made to measure range of Townsville Outdoor Blinds to suit your property.
External shutters offer you a stylish way of enclosing an outside area of your property, such as a patio or deck. Any outdoor space can be turned into an additional room, giving you the freedom and fresh air of outdoor life, with the levels of comfort you enjoy inside the home.
External shutters are also a great option for businesses with outdoor areas for customers or workers to enjoy. You can turn a terrace into a great area for eating, socialising or even doing business!
The benefits of external plantation shutters
Have you ever wished you could enjoy the outdoor areas of your property all year round? With external shutters from Ede Shade Solutions, you can! Our top quality aluminium shutters are designed to protect your outdoor space from the heat and cold, so you can enjoy spending time outdoors as often as you like.
As a local business based in Townsville, we understand the demands of the Queensland climate. Our shutters are manufactured to weather the elements using aluminium blades with stainless hardware to resist rust and corrosion.  External shutters are strong and durable which will last many years into the future.  Ultimately being great value for money as well as being practical and modern.
Our external shutters are adjustable by hand, giving you the flexibility to control exactly how much light and heat you want to let in at any one time.  Wind tested and backed by a structural 10-year warranty. Check out our selection of plantation shutters Towsville wide.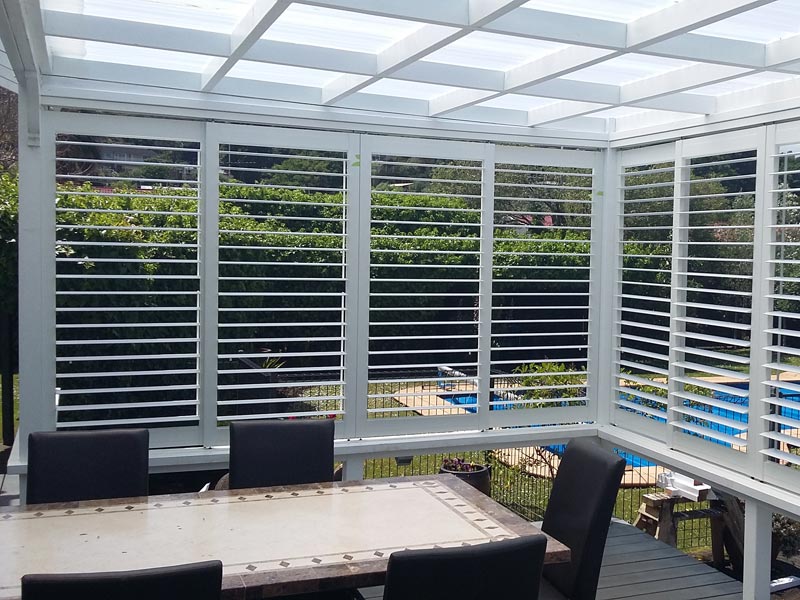 We want your experience with Ede Shade Sails to be amazing, and we back that up with our simple Comfort Warranty.
We offer a 5-year warranty on components and 10-year warranty on materials (warranty conditions apply) on most of our blinds and awnings. We take pride in offering the best possible Townsville blinds and awnings to our customers and look forward to serving you and your family for the next 100 years!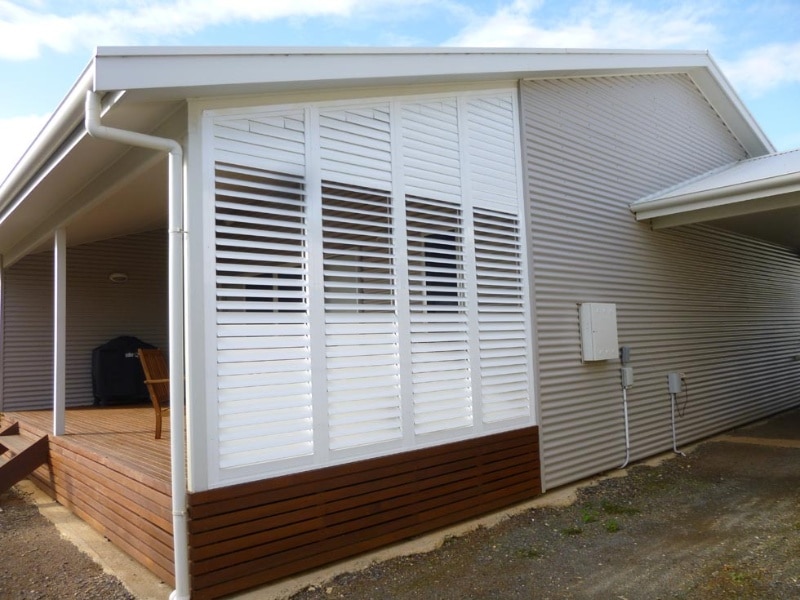 External shutters for all windows & doors
External shutters are available in a range of styles including: Fixed, Hinged, Bifold & Sliding.
Blade sizes include: 64mm, 89mm and 114mm.
Safety options are Flush Bolt, Double Shoot Bolt, Security Bolt & Lockable Handle.
Standard colour options are: White, Pearl, Silver & Black with Timber. Grain finishes available at an additional charge along with custom powder coating colours.
Ede Shade Solutions are a fantastic local company to deal with. The entire team from office staff to installers are extremely professional , reliable and on time. Ede Shade Solutions delivered a completive quote and worked with me to find a solution which not only met my needs but also but was customised exactly to suit out house and maximised efficiency. I can not recommend Ede Shade Solutions enough. Even during the installation process, the specialised and expert team helped me with some minor changes and were eager to work with me for any questions I had along the way. The whole process was explained clearly to me and made the design very simple. The staff we always accessible and more than happy to cater to our requirements. Ongoing communication was made easy by the exceptional staff. Its rare to find a company (esp a local company) who stand behind their products and also respect that your time is valuable and ensure that they meet when they say they will. From my personal experience, there is no choice other than Ede Shade Solutions – they simply deliver what they say they will on time and for a great price. Thanks again to the entire team at Ede Shade Solutions, this is one very happy customer!!!
– Steven Sciuto
Find out more about external plantation shutters
If you want to transform the way you live with external shutters for your Townsville home or business, our specialist team at Ede Shade Solutions are here to help. Please contact us if you would like more advice about our range of external shutters, or to arrange a consultation.
Time for new external shutters? Let's get started...