Looking for a way to protect your property from Queensland's harsh climate? Want a stylish, long-lasting easy-to-use blind solution for your home or business? Want to decrease cooling costs? Then automatic blinds might be in your future and there's no better place to learn more about them than at Ede Shade Solutions, designers and manufacturers of Townsville Outdoor Blinds in for over 100 years!
Automatic blinds – the most convenient blinds for your home or business
Automatic blinds are ideal for ground floor windows. Designed to provide you with shade and sun protection close to your window. Our Automatic Blinds offer you complete freedom, thanks to their ease of use. They operate on a fixed guide rod system with the auto locking arms allowing you to adjust the awning easily by hand to vary the height of window covering.
One of the greatest advantages to automatic blinds is that you have peace of mind knowing that if weather conditions change the awning will close automatically, hence the name! They also provide plenty of airflow, while still sitting close enough to windows to minimise light – and heat – entering your home. The greater the arm projection of the arms (150, 300 & 450mm) the more ventilation is possible through the window.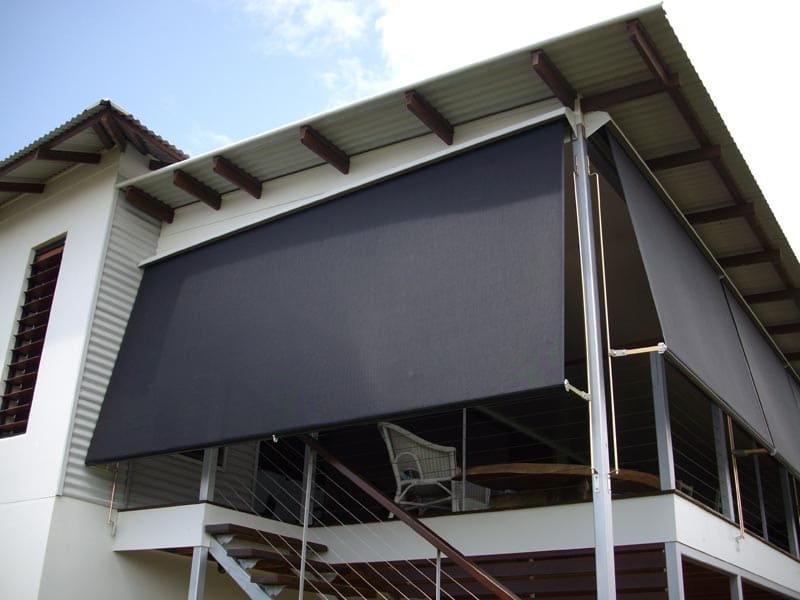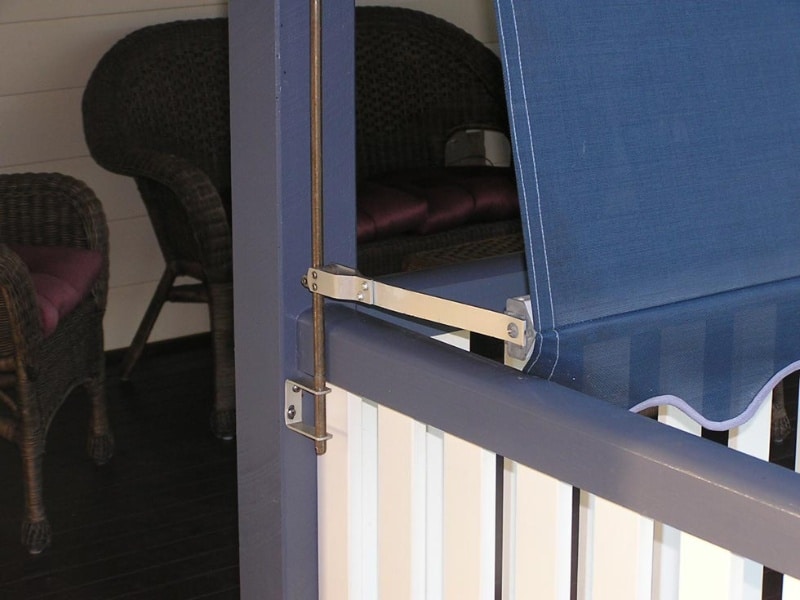 A practical, yet stylish blind option
At Ede Shade Solutions, we only ever use the highest quality materials & componentry to manufacture our automatic blinds. The strong aluminium frames, stainless steel hardware used for the guide arms, U-brackets & L-brackets are designed to cope with all the demands of the climate here in Queensland. Your automatic blinds will be strong, tough and durable, lasting you for many years into the future and offering excellent value for money.
At Ede Shade Solutions we offer you the flexibility of covering the top roller of your blind with weather box. The weather box and bottom rail can also be powder coated in a range of colours to blend in with the colours of your home. Fabric bottom trim options include a scallop for the more traditional look, straight edge for more modern look or none at all.
We want your experience with Ede Shade Sails to be amazing, and we back that up with our simple Comfort Warranty.
We offer a 5-year warranty on components and 10-year warranty on materials (warranty conditions apply) on most of our blinds and awnings. We take pride in offering the best possible Townsville blinds and awnings to our customers and look forward to serving you and your family for the next 100 years!
Visit our showroom to see our automatic blinds TOWNSVILLE
Like you, we care about the aesthetics of your property. The fabric options used for automatic blinds are acrylic canvas or PVC mesh. Both are highly durable, easy to clean and are available in a large range of plain and striped colours. Giving you the flexibility to customise your automatic blinds to suit your taste and the architectural style of your property. Both fabrics are also a highly effective solution for keeping your home or office cool during the summer months. This creates a more pleasant environment and helps you to save money on your energy bills.
Our automatic blinds are a stylish external alternative to indoor window dressings. Elegant when lowered and unobtrusive when not in use, our outdoor blinds are a great way of giving your property an instant makeover!
You can see some great examples of our automatic blinds here, If you are interested in having automatic blinds installed at your residential or commercial property, please contact our team. We are always happy to discuss your requirements and arrange a consultation.
A company that knows how to work with the diversity of a modern family. I loved Ede Shade Solutions and especially Jay for not only explaining it all to me but also my other half when he was home. Ede are patient and understand we both have questions and work on busy schedules. The shadesail is an amazing carport and a great addition to our Queenslander home. Thanks so much Ede – I highly recommend this company to anyone getting a shade sail.
– Kylie
Need blinds, shutters, awnings or shade sails? Let's get started...