Our most popular Townsville indoor blind, Roman Blinds are an elegant and contemporary blind which hang as flat panels when down and when completely raised the fabric of the Roman Blind sits as neat, horizontal folds which stack on top of each other for a clean and minimalist modern look. As a bonus, when completely raised they can also act as a pelmet to your window frame finish.
Make a statement with a Roman Blind
With their ability to perfectly match your colour scheme and style, Roman Blinds give a sophisticated look and add structure to a room.
Roman Blinds are traditionally operated by a cord lock system but can also be installed with a fresher look as a chain system, or can even be fully motorised.
Featuring timber battens creates a casual or traditional look or the aluminium battens available in black or white but is not visible from the inside giving a more formal look to your home or office space.
Another advantage with roman blinds is that they can work together with a light filtering curtain over the top or compliment other internal blinds you may want to use in your home or business such as Panel Glides or Roller Blinds as all these can be custom made and matched from fabric of your choice!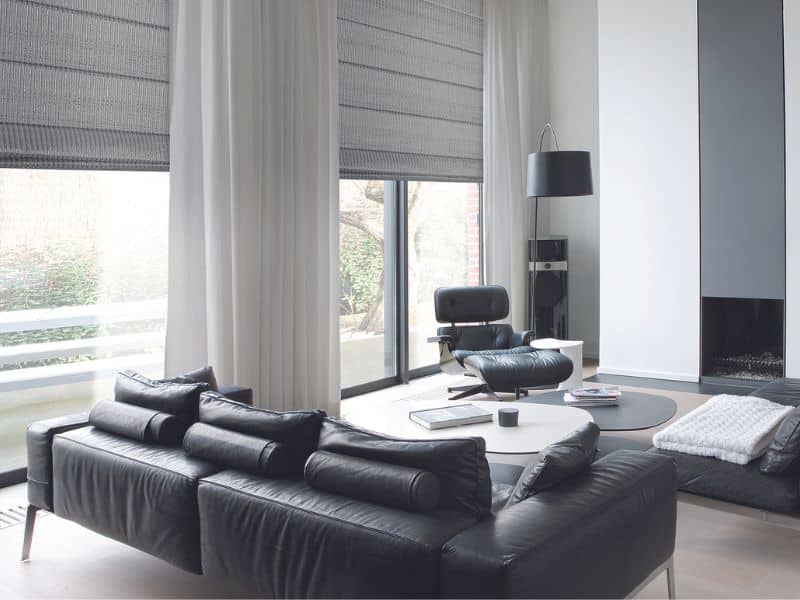 I had a really great experience with Edes Townsville. Being a local company and local family-run business, they were able to provide a lot of personal suggestions on what type of blinds would suit my place that's in the direct North QLD sun. Communication, speed and professionalism was outstanding. Absolutely recommend if you're looking for some blinds, shade sails etc as you'll get good quality products and service.
– Tania Clarke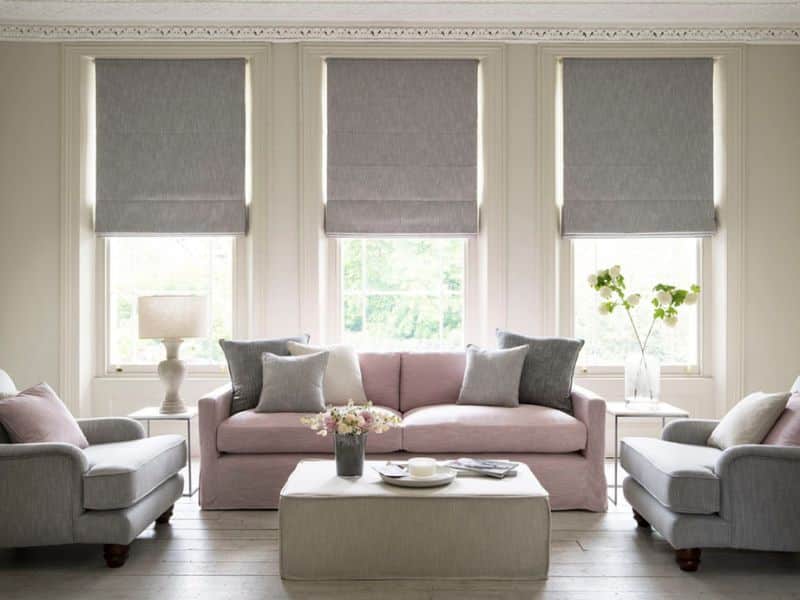 Roman Blinds are Best for Blocking Out Light
In addition to Roman Blinds adding a touch of sophistication to any room, they provide an important function in Queensland homes and offices too.
Roman Blinds are the blinds Townsville residents prefer for rooms which require full block out fabric which is most effective as a darkening tool. For this reason, they are best installed on the face of your window opening to minimise gaps for light to filter through.
Select from our huge range of quality blackout fabrics or translucent light filtering fabrics, letting you set the tone of the room with colour, textures, mood and light control to enhance your room's ambience.
We want your experience with Ede Shade Sails to be amazing, and we back that up with our simple Comfort Warranty.
We offer a 5-year warranty on components and 10-year warranty on materials (warranty conditions apply) on most of our blinds and awnings. We take pride in offering the best possible Townsville blinds and awnings to our customers and look forward to serving you and your family for the next 100 years!
Find out more about Roman Blinds from Ede Shade Solutions
One of the things we pride ourselves on here at Ede Shade Solutions in Townsville is our ability to understand exactly what our customers require. Whether you are looking for your home or business, Ede Shade Solutions can provide you with the solution you're looking for.
We will consult closely with you to find out exactly what you need from your Roman Blinds and provide you with a custom solution. As with all our products, we only use the highest quality materials so you can feel completely secure that you have an excellent product.
If you are interested in Roman Blinds for your home or business, please contact us. Our team are always happy to discuss your needs and arrange a consultation.
Are Roman Blinds right for your home or office? Let's find out.
Frequently asked questions about our Roman Blinds Townsville
What you need to know about Ede's products and services.
Are Roman Blinds a good idea?
Yes, Roman Blinds can be an excellent choice when it comes to interior design. Their ability to consume minimal space while providing coverage gives you the most out of the window area. Additionally, they provide a timeless look that meshes well with any style of decor. Roman Blinds are completely customised to our customers.  Available in light filtering or blockout fabrics, numerous colours, and textures, making it easy to find one that will complement your home's surroundings. Fabrics can be bold or subtle, making for an eye-catching addition to any room in your house. Roman Blinds have great light block out and available in cord, chain or motorised operation.  
Are Roman Blinds out of fashion?
No, Roman Blinds are a timeless classic. They combine the formality of drapery with the practicality of a window covering and create a sophisticated, modern look. Roman Blinds come in an array of materials, colours and prints to achieve any desired aesthetic in your living space. Unlike many styles that come and go with trends, Roman Blinds never seem to go out of fashion due to their elegant appearance and versatile options for customisation. They can be used to create different looks ranging from effortless minimalism to playful chic. Overall, no matter what style you're trying to achieve in your interior decorating, Roman Blinds are always stylish and fashionable.
What is the difference between Roman Blinds and Roman Shades?
Roman Blinds and Roman Shades could be classed as the same product.  Roman Blinds are made from fabric that is designed to pleat into panels when raised up.  Where a soft or relaxed fabric is used it can sometimes have the effect of a Roman Shade or Roman Drape look.
Do Roman Blinds look better inside or outside a recess?
Where to hang Roman Blinds is a question often asked by those looking to spruce up their room. Depending on your circumstance a Roman Blind can be installed inside or outside the window recess. If a room is dark or does not get many hours of sun, having these blinds hung outside the recess will allow more natural light in and make the space brighter. Having them outside also keeps the window area uncluttered and allows more freedom when trying to accessorise. However, if someone wishes to emphasise privacy or block out as much light as possible, then choosing to install Roman Blinds inside the window recess may be better suited for their needs. Ultimately, it really comes down to finding what works best in relation to available space and desired use of the room.
How much do Roman Blinds cost Australia?
It is difficult to provide an average cost for Roman Blinds in Australia, as the cost can vary widely depending on the size of the window, the type of fabric used, and the operation style. In general, Roman Blinds can range in price from around $300 to $2000 or more per window, depending on the factors mentioned above. It's best to contact us for a no-obligation measure and quote.