Discover Ede's Townsville Straight Drop Blinds
Ede Shade Solutions, the Townsville Outdoor Blinds specialists, offer a broad range of outdoor shading solutions; a starting point is with the Straight Drop blind.
The Straight Drop blind is simple in its design and installation, creating a minimal aesthetic.  As its name states, it operates straight down to its fixing points of clips or straps to the floor and straight up.  It is a very cost-effective solution for your outdoor space.
Straight drop blinds for Townsville homes and businesses
Suitable for both residential and commercial use, the straight drop blind offers a range of options to suit your requirements. Using only quality fabrics in Acrylic Canvas or PVC Mesh we will assist you in choosing the best solution for your outdoor space that will provide you with protection from the sun, wind & rain. Available as a crank handle or motorised operation, the straight drop blind has no zips, no ropes & no buckles. Straight drop blinds are installed with open brackets with the option of a box cassette.
Open brackets can be used as a simple, cost effective option or if you want a sleeker appearance, add the box cassette which covers the roller as protection and a more premium look.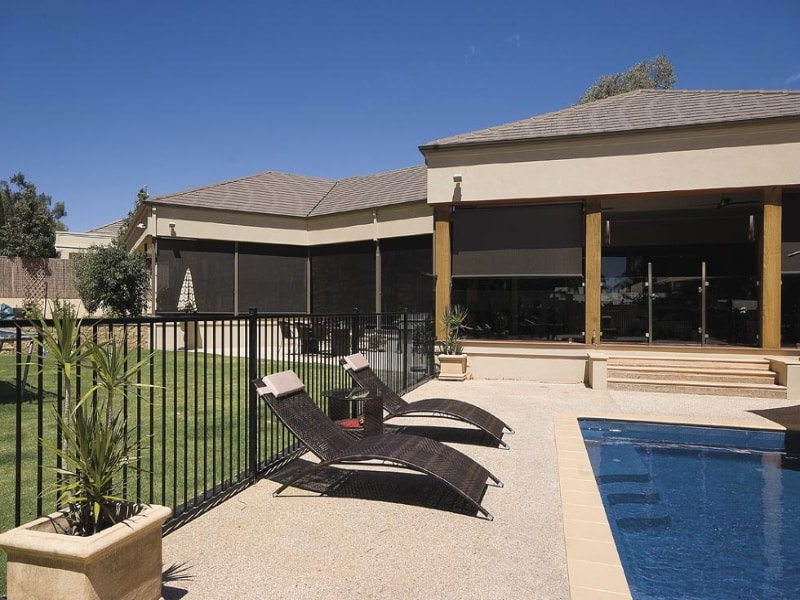 We want your experience with Ede Shade Sails to be amazing, and we back that up with our simple Comfort Warranty.
We offer a 5-year warranty on components and 10-year warranty on materials (warranty conditions apply) on most of our blinds and awnings. We take pride in offering the best possible Townsville blinds and awnings to our customers and look forward to serving you and your family for the next 100 years!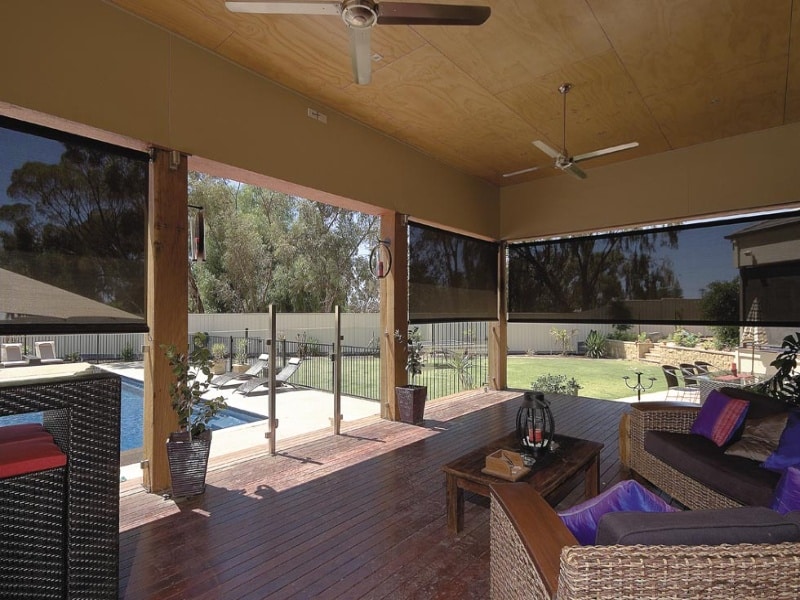 A huge range of fabrics and colours to choose from
Straight drop blinds can go up to 4m wide and are supported by a 5-year warranty on components and 10-year UV Warranty on fabrics.
Standard powder coat colours are Pure White, Black, Classic Cream, Paperbark, Anodised, Mill & Woodland Grey. Customised powder coating colours are also available at an additional charge. With a huge range of fabric colours to choose from to suit your home scheme call or visit to see our full range of straight drop blinds Townsville wide.
I had a really great experience with Edes Townsville. Being a local company and local family-run business, they were able to provide a lot of personal suggestions on what type of blinds would suit my place that's in the direct North QLD sun. Communication, speed and professionalism was outstanding. Absolutely recommend if you're looking for some blinds, shade sails etc as you'll get good quality products and service.
– Tania Clarke
Find out more about our Straight Drop Blinds
We are committed to supplying high-quality solutions which promote weather protection, energy efficiency and creating more liveable spaces for our customers.
Our expert team here at Ede Shade Solutions can help you find the perfect solution for your Townsville home or business. If you would like more information and advice about our straight drop blinds and awnings, please contact us, and we'll be happy to help. Find Out More.
In need of beautiful straight drop blinds? Let's get started...
Frequently asked questions about our Straight-Drop Outdoor Blinds Townsville
What you need to know about Ede's products and services.
What are straight drop awnings?
Straight Drop Awnings are an elegant, fuss-free solution for adding some shade to your outdoor space. With no mess of pulleys or cords, these awnings provide an effortless way to create comfortable shading with simple one-step operation. Depending on your preference, Straight Drop Awnings can be opened/closed three different ways: spring operated, crank handle operated, or motorised. You can be sure that whichever you choose, the result will be easy to operate and stylishly effortless. Now every home in Townsville can enjoy the luxury of having perfect shade simply and quickly!
What are the benefits of using a straight drop awning?
A straight drop awning is an ideal solution for people looking to protect their home from harsh weather while also increasing privacy and maximising usable space. This awning has numerous benefits, such as being able to save energy by blocking out the sun, meaning furniture and floorings will not fade away. Additionally, the awning is effective in providing extra privacy, perfect for people who love spending a lot of time in their outdoor areas! Not only that, but straight drop awnings can be used to block out unwanted pests who may try to sneak in. Furthermore, these types of awnings are ideally versatile, as they can fit any area of your house. Finally, its sturdy design means you will get long-lasting protection for all seasons and many years.
How do I choose an awning for my house?
Selecting the right awning for your Townsville home can be a daunting task, but there are several factors that you should consider when making the decision. First and foremost is location. Where can you optimize shade without compromising aesthetics? Your next consideration is style and edges. Do you prefer a traditional look or something more modern? As for material, you must look into its durability and whether it is suitable in all weather conditions. In addition, colour plays an important role as well — light shades will help reflect the heat while darker tones would absorb it. The angle of the awning also matters to ensure maximum coverage, while side panels add protection against strong winds and precipitation. Most importantly, make sure that the size of your new awning matches its designated purpose. Do you want it to be used as sun protection or perhaps even offer greater privacy? Keep these aspects in mind and make sure to weigh your options before deciding on what works best for both your needs and budget.
How do I maintain my straight drop awning?
Maintaining your Townsville straight drop awning to ensure it remains in good condition for years to come is very important. You should inspect the fabric regularly for signs of damage such as rips, tears and fading. If you spot any defects, you can repair them quickly with an appropriate repair kit or contact us for assistance. The framework should also be checked for rust, dirt or insect infestations and treated accordingly. It is advisable to also clean the fabric gently but thoroughly at least once yearly in order to remove dust and other dirt that might have collected over time. Following these tips would go a long way in maintaining your straight drop awning.